PEACH BLUEBERRY PIE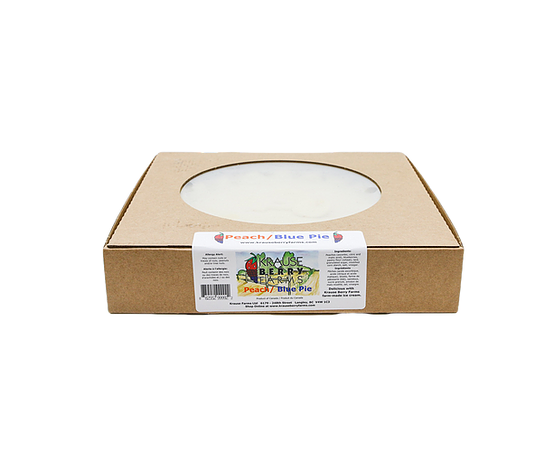 Handmade in our Harvest Kitchen using peaches and our own sun ripened hand picked blueberries.
Size 10" diameter
Order our pies frozen to bake at home, or give us 24hrs notice and we will bake it for you.
If you want the pie baked: select your pick up time and day 24hrs notice in advance.
INGREDIENTS: PEACHES, PASTRY FLOUR (WHEAT), KRAUSE BERRY FARMS BLUEBERRIES, LARD TENDERFLAKE, WATER, SUGAR, MODIFIED CORN STARCH, SALT, SUNSET GLAZE (WATER, VEGETABLE OIL, VEGETABLE PROTEINS, DEXTROSE,
MALTODEXTRINS, STARCH), VINEGAR
Double Crust Pie Baking Instructions:
Preheat oven to 425F
Bake frozen pie for 15 minutes at 425F then turn down oven to 375 and bake for another 50 - 60 minutes (times vary depending on type of oven). The entire top should be golden brown and the filling should look "bubbly" and a bit of it will poke through the holes in the top of the pie. ​
Allow 2 hours for pie to cool before slicing and serving. We know this is difficult, but trust us, it's necessary for the filling to firm up a bit ;)   ​​