Irish Beef Stew Mix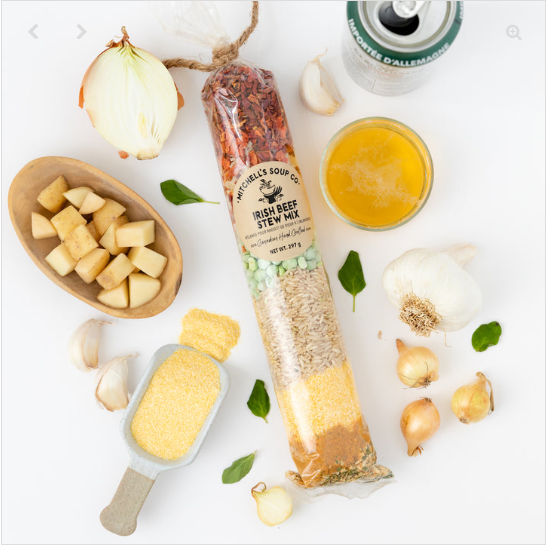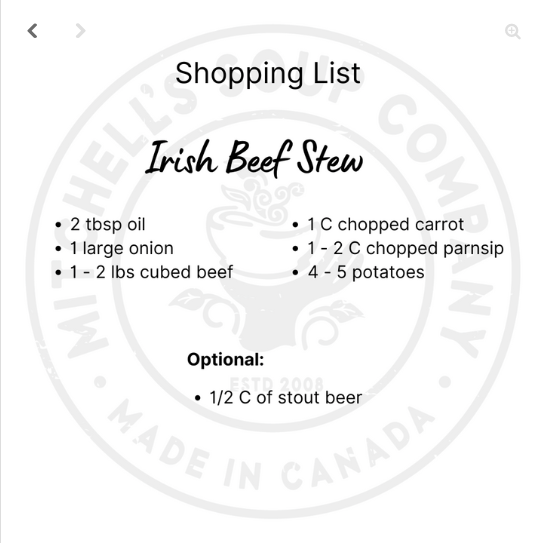 Hearty and thick this traditional beef stew is a real stick-to-your-bones meat and potatoes meal! 

297 g
Servings: 7-9 (2 Cup)/Portions Copieuses

Directions: 1) In large pot, combine 2 tbsp oil, 1 large chopped onion, 1-2 lbs cubed beef. Cook until beef is browned. 2) Add 1 C chopped carrot, 1-2 C chopped parsnip, 4-5 cubed potatoes, package contents, and 8 C water. Bring to a boil and simmer, covered, for 90 mins, adding water if needed. Option: Add ½ C stout beer, stir and simmer for 15 mins with no lid. 

Please note that some ingredients may be field harvested. For best results inspect for elements of nature before cooking.

Ingredients: Brown rice, Dried potato (sulphites), Cornmeal, Soup base (salt, dextrose, wheat flour, canola oil, corn syrup solids, onion powder, sugar, beef extract, disodium guanylate, disodium inosinate, natural flavour, caramel, spices), Dried carrot, Dried bell pepper, Dried pea, Garlic, Onion, Herbs, Spices.

May contain: Tree nuts, Peanuts, Soy, Eggs, Milk, Sesame, Mustard, Barley.
Instructions : 1) Dans une grande casserole, mélanger 2 c. à soupe d'huile, 1 gros oignon haché, 1 à 2 livres de bœuf en cubes. Faire revenir jusqu'à ce que la viande soit dorée. 2) Ajouter 1 tasse de carottes hachées, 1 à 2 tasses de panais hachés, 4 à 5 pommes de terre en cubes, le contenu de l'emballage et 8 tasses d'eau. Porter à ébullition et laisser mijoter, à couvert, pendant 90 minutes, en ajoutant de l'eau si nécessaire. Option : Ajouter ½ tasse de bière de type stout, remuer et laisser mijoter pendant 15 minutes sans couvercle.

Veuillez noter que certains ingrédients pourraient avoir été récoltés dans des champs. Pour obtenir les meilleurs résultats, vérifiez la présence de débris naturels avant la préparation.

Ingrédients : Riz brun, Pomme de terre séchée (sulfites), Semoule de maïs, Base de soupe (sel, dextrose, farine de blé, huile de canola, extrait sec de sirop de maïs, poudre d'oignon, sucre, extrait de bœuf, guanylate disodique, inosinate disodique, arôme naturel, caramel, épices), Carotte séchée, Poivron séché, Pois séchés, Ail, Oignon, Fines herbes, Épices.

Peut Contenir : Noix, Arachides, Soya, Œufs, Lait, Sésame, Moutarde, Orge.