Mexican Tortilla Soup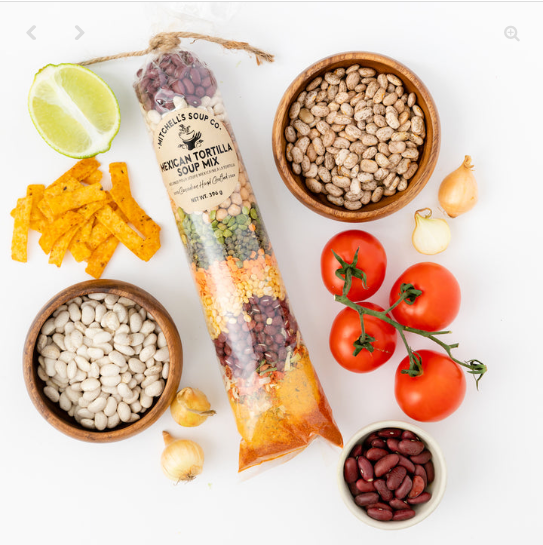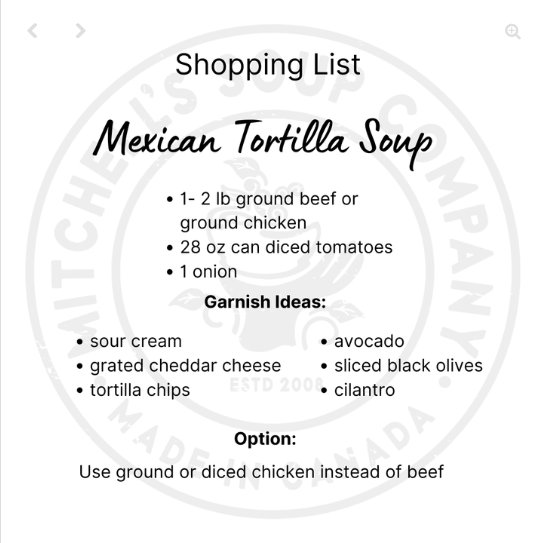 Our Mexican-style taco soup has proven to be one of our most popular mixes. The spice blend offers an authentic burst of flavor without being too hot. Great garnished with a dollop of sour cream and tortilla chips. 
396 g

Servings: 8-10 (2 Cup)/Portions Copieuses

Directions: 1) In large pot, brown 1-2 lb hamburger or chicken and 1 chopped onion. Add taco seasoning (optional). 2) Add 10 C water and bean portion of soup mix (pinch bag below chickpeas and empty top portion of beans). 3) Boil, then simmer, covered, for 1 hr. 4) Add remaining package contents and 28oz can diced tomatoes; cook, covered, for 1-2 hr. Season with salt and pepper. Garnish with 1 tbsp sour cream, crushed tortilla chips, and grated cheese. Note: for softer beans and faster cook time soak beans 4-6 hr.

Please note that some ingredients may be field harvested. For best results inspect for elements of nature before cooking.

Ingredients: Beans (garbanzo, adzuki, pinto, small red, mung, great northern), Soup base (salt, corn syrup solids, dextrose, wheat flour, sugar, canola oil, corn starch, onion powder, beef extract, guar gum, spices, herbs, disodium guanylate, disodium inosinate, natural flavours, turmeric, caramel) , Green split pea, Dried vegetables (carrot, onion, potato, leeks, peppers, celery, cabbage, sulphite), Red lentils, French lentils, Garlic, Onion, Herbs, Spices (mustard).

May contain: Tree nuts, Peanuts, Soy, Eggs, Milk, Sesame, Barley.

Instructions : 1) Dans une grande casserole, faire revenir 1 à 2 lb de viande hachée ou du poulet et 1 oignon haché. Ajouter l'assaisonnement pour tacos (facultatif). 2) Ajouter 10 tasses d'eau et la portion de fèves du mélange à soupe (pincer le sac sous les pois chiches et vider la portion supérieure avec les fèves). 3) Porter à ébullition, puis laisser mijoter à couvert pendant 1 heure. 4) Ajouter le reste du contenu du paquet et la boîte de tomates en dés de 28 oz ; cuire, à couvert, pendant 1 à 2 heures. Assaisonner avec du sel et du poivre. Garnir d'une c. à soupe de crème sûre, de tortillas écrasées et de fromage râpé. Remarque : pour des fèves plus tendres et un temps de cuisson plus rapide, faire tremper les fèves pendant 4 à 6 heures.

Veuillez noter que certains ingrédients peuvent avoir été récoltés au champ. Pour de meilleurs résultats, vérifiez la présence de débris naturels avant de préparer la soupe.

Ingrédients : Fèves et haricots (garbanzo, adzuki, pinto, petits rouges, mungo, great northern), Base de soupe (sel, extrait sec de sirop de maïs, dextrose, farine de blé, sucre, huile de canola, amidon de maïs, poudre d'oignon, extrait de bœuf, gomme de guar, épices, fines herbes, guanylate disodique, inosinate disodique, arômes naturels, curcuma, caramel), Pois verts cassés, Légumes séchés (carotte, oignon, pomme de terre, poireaux, poivrons, céleri, chou, sulfites), Lentilles rouges, Lentilles françaises, Ail, Oignon, Fines herbes, Épices (moutarde).

Peut contenir : Noix, Arachides, Soya, Œufs, Lait, Sésame, Orge.