Skillet Cobbler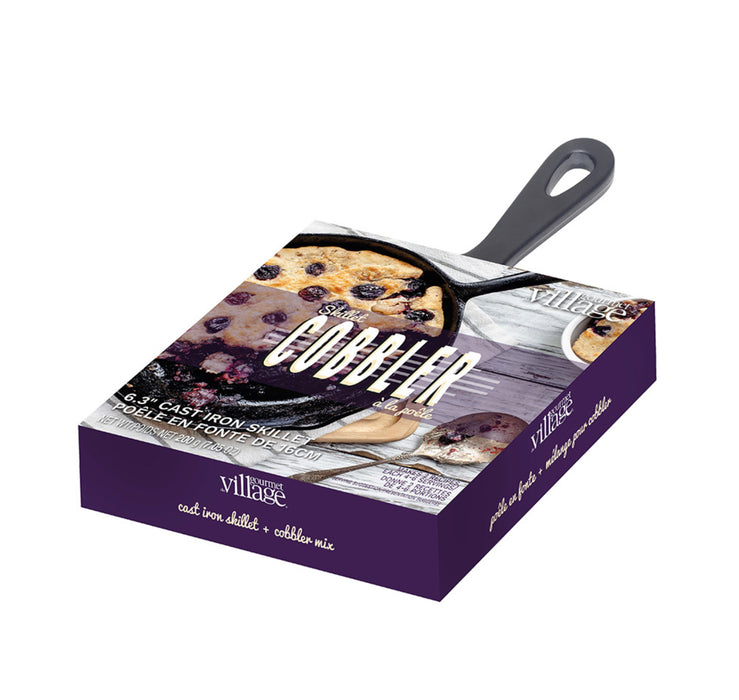 This 16 cm (6.3") cast iron skillet comes with a delicious Cobbler mix, just add milk, and fresh or frozen berries, mix gently, bake, serve and share a scrumptious fresh Cobbler, fresh from the skillet.
Net weight 200g (7.05 oz). Makes 2 recipes of 4-6 servings.
Ingredients:
Enriched Wheat Flour, Sugar, Whey Powder, Baking Powder, Salt, Canola oil.
Contains: Wheat, Dairy.

Cobbler mix Prepared in Canada /Cast iron skillet: Product of China
WILD BERRY COBBLER

All you need:
- 1/2 bag (3/4 cup) Cobbler Mix (included)
- 22.5 ml (1½ tbsp) butter, melted or vegetable oil
- 80 ml (1/3 cup) milk or non dairy substitutes
- 473 ml (2 cups) frozen fruit of your choice (mixed berries recommended)
- 29 ml (2 tbsp) sugar
- 7 ml (1.5 tsp) corn starch

All you do:
Preheat oven to 350°F (180°C). In medium bowl mix together frozen fruit, sugar, and corn starch, set aside. In a large bowl mix together the butter & milk. Gradually add the Cobbler Mix until well combined. Pour fruit mixture into the skillet, top with cobbler mixture. Bake 35-40 minutes, until golden bubbly. Top with vanilla ice cream and enjoy!
CAUTION: DISH WILL BE VERY HOT.