Classic Chicken and Herb Soup Mix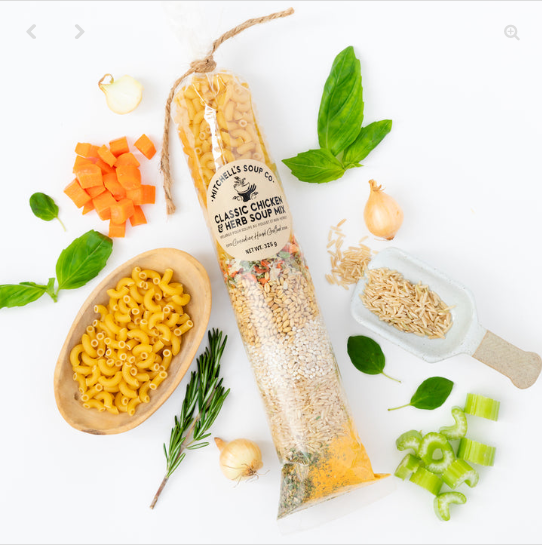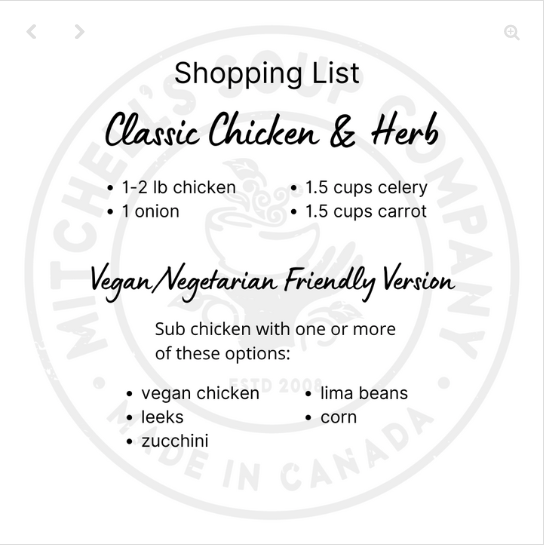 Hearty and comforting this family favourite is bursting with home-cooked flavour. Add some chicken & fresh veggies then serve with hot buttered buns for the perfect classic meal. 
 Vegan/Vegetarian Friendly: Recipe may require some substitutions. Please note: All Mitchells products are stored and processed in a facility that has ingredients containing animal bi-products.
325 g
Servings: 8-10 (2 Cup)/Portions Copieuses

Directions: 1) In large pot, brown 1-2 lb chicken and 1 chopped onion. 2) Pinch bag of soup directly below the noodles, pour out just the noodles, and set aside. 3) Add to pot: 10 C water, remaining package contents (not including noodles), 1 ½ C chopped celery, 1 ½ C chopped carrot; boil, then simmer, covered, until cooked (approx 1-2 hr), adding noodles for the last 15 min of cooking. Season with salt and pepper. Note: to make 5-6 servings, mix package in ziplock and use half; use half of remaining ingredients.

Please note that some ingredients may be field harvested. For best results inspect for elements of nature before cooking.

Ingredients: Pasta (durum wheat semolina), Brown rice, Barley, Wheat berry, Soup base (corn syrup solids, salt, sugar, wheat flour, dextrose, corn starch, canola oil, guar gum, natural flavour, turmeric, herbs, spices), Dried vegetables (carrot, onion, potato, leeks, peppers, celery, cabbage, sulphites), Garlic, Onion, Herbs, Spices.

May contain: Tree nuts, Peanuts, Soy, Eggs, Milk, Sesame, Mustard.

Instructions : 1) Dans une grande casserole, faire revenir 1 à 2 lb de poulet et 1 oignon haché. 2) Pincer le sac de soupe directement sous les nouilles, verser seulement les nouilles, et mettre de côté. 3) Ajouter à la casserole : 10 tasses d'eau, le reste du contenu de l'emballage (sans les nouilles), 1 ½ tasse de céleri haché, 1 ½ tasse de carottes haché ; porter à ébullition et laisser mijoter à couvert jusqu'à cuisson (environ 1 à 2 heures), en ajoutant les nouilles pendant les 15 dernières minutes de cuisson. Assaisonner avec du sel et du poivre. Note : pour faire 5-6 portions, mélanger le paquet dans un sac à fermeture hermétique et utiliser la moitié ; utiliser la moitié des ingrédients restants.

Veuillez noter que certains ingrédients pourraient avoir été récoltés dans des champs. Pour obtenir les meilleurs résultats, vérifiez la présence de débris naturels avant la préparation.

Ingrédients : Pâtes (semoule de blé dur), Riz brun, Orge, Grain de blé, Base de soupe (extrait sec de sirop de maïs, sel, sucre, farine de blé, dextrose, amidon de maïs, huile de canola, gomme de guar, arôme naturel, curcuma, fines herbes, épices), Légumes déshydratés (carotte, oignon, pomme de terre, poireaux, poivrons, céleri, chou, sulfites), Ail, Oignon, Fines herbes, Épices.

Peut contenir : Noix, Arachides, Soya, Œufs, Lait, Sésame, Moutarde.