MINCEMEAT PIE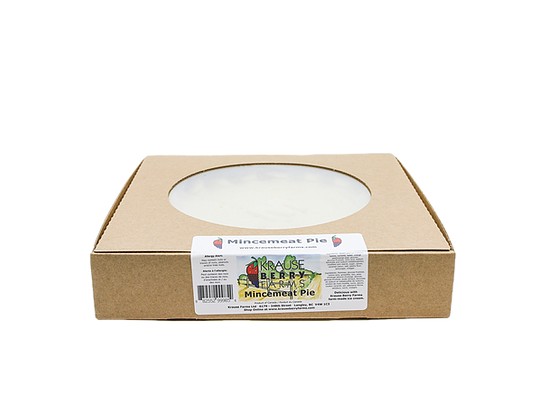 This mincemeat pie is handmade in our Harvest Kitchen and sold frozen to be baked at home. We can pre-bake the pie for you if given 24hrs notice.
Size 10" diameter
If you want to enjoy this pie when you pick it up: select your pick up time and day 24hrs notice in advance.
INGREDIENTS: MINCEMEAT FILLING-VEGETARIAN, PASTRY FLOUR (WHEAT), LARD TENDERFLAKE, WATER, SUGAR, SALT, SUNSET GLAZE (WATER, VEGETABLE OIL, VEGETABLE PROTEINS, DEXTROSE, MALTODEXTRINS, STARCH), VINEGAR
Baking Instructions for Frozen Pie
1. Preheat oven to 425F .
2. Place frozen pie in the oven for 15
minutes at 425° F
3. Reduce heat to 375°F and bake for approximately 60 minutes (time varies depending on the oven. The entire crust should be golden brown.
4. Remove from oven and cool for approximately 2 hours before slicing.