GLUTEN FRIENDLY PUMPKIN PIE KBF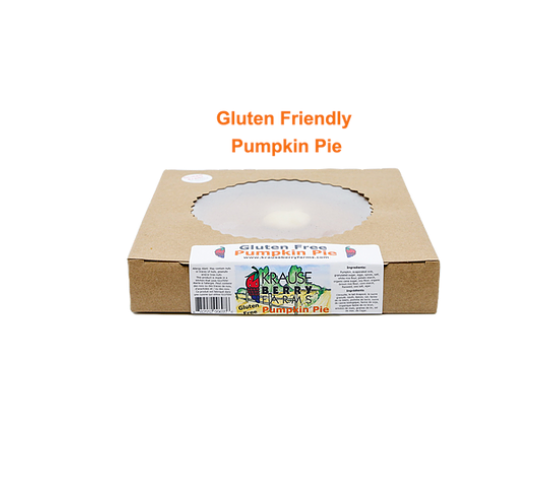 Our handmade PRE-BAKED 8 inch *gluten friendly pumpkin pies are sold frozen ready to take home, thaw and enjoy using Wendels 8" True Foods Gluten Free Pie Shell.
This pie is 8" diameter.
 DO NOT BAKE THESE PIES - SIMPLY THAW AND ENJOY.
You can also give us 24hrs notice and we will have a baked pumpkin pie ready to enjoy immediately waiting for you in the Bakery. 
If you want a pumpkin pie that is ready to eat when you pick it up and is not frozen: select your pick up time and day 24hrs notice in advance.
*PLEASE NOTE, THIS GLUTEN FRIENDLY PIE IS MADE IN THE SAME FACILITY AS OUR REGULAR PRODUCTS AND THERE IS ALWAYS A CHANCE OF CROSS CONTAMINATION. WE DO NOT RECOMMEND OUR GLUTEN FRIENDLY PIES/PRODUCTS FOR THOSE WHO ARE CELIAC.
INGREDIENTS: PUMPKIN PURE, SUGAR, EVAPORATED MILK, EGGS, CINNAMON, SALT, NUTMEG, GINGER
Wendels Pie Shell Ingredients:
White rice flour, Water, Butter, Potato starch, Organic palm oil, Tapioca starch, Flaxseed, Sugars (cane sugar), Sea salt. 
Additional Information
Contains dairy (milk)