Garlic Spinach 'Ricotta' Plant Based Ravioli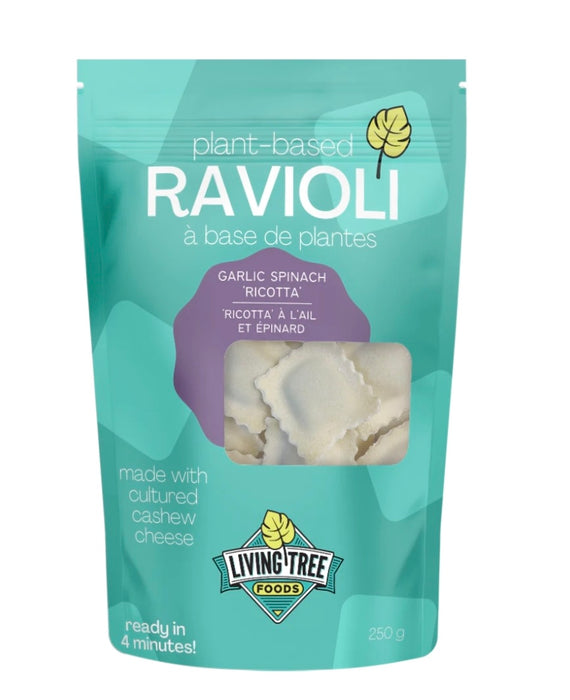 Plant Based Garlic & Spinach 'Ricotta' Ravioli 
So good, your nonna will have seconds.
250 g
Ingredients (Vegan): Pasta (00 Flour, Semolina Flour, Filtered Water), Garlic 'Ricotta' (Organic Non-GMO Tofu (Water, Soybeans, Magnesium Chloride, Calcium Sulphate), Cashews, Filtered Water, Nutritional Yeast, Fresh Garlic, Himalayan Pink Salt, Garlic Powder, Probiotics), Spinach
Contains: Wheat, Tree Nuts, Soy
May Contain: Peanuts, Sesame Seeds, Sulphites
Keep frozen. Cooks in 4 minutes.
Living Tree Foods
Started in 2020, Living Tree Foods was born from a dream to make plant-based foods as delicious and accessible as their non-vegan counterparts. 
Our two founders, Emily and Kyle, met in law school. In the practice of law, the 'living tree' doctrine holds that the way we interpret the world around us and the way we behave within it should adapt to changing times and information. With more and more evidence coming out all the time about the health benefits of a plant-based diet, and the increasing concern for animals' interests and rights, there is no better way to embody this principle than to work plant-based foods into our diet.
We have made it our mission to knock down barriers to eating a plant-based diet by making accessible vegan versions of traditional products, being uncompromising on taste and quality.